Box mount / Standout prints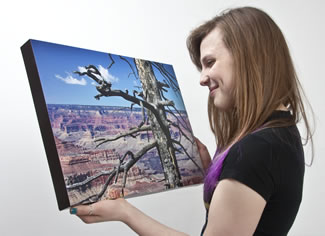 Photo by Emily Elmore
We developed the box mount, also known as a standout, as an elegant and affordable method to display prints. This mounting works especially well with our fine art papers which cannot be used with gallery wrap.
Features and options
A MightyCore panel keeps the print flat
The coated black (or white) paper surface of the panel shows on the sides to frame the print.
We can print on canvas, fine art paper, luster photo paper, and metallic photo paper.
The print dimensions can range up to 32x44x2 inches.
The depth of the box (distance it stands out from the wall) can be varied between 1 and 4 inches.
Because it is hung from a wire loop on the back, the box is held tight against the wall.
Sides can be black or white (we recommend black).
We can divide one image into several prints that, when hung together, look even better than one very large print. See below and learn more here.
We can add a clock anywhere on the face of the print.
In both cases the prints are mounted on a MightyCore panel that is almost indestructible
Gallery wraps cannot be printed on Fine art paper; any of our papers or cloth can be used for Box Mount
With Box Mount, the sides are the coated acid-free paper surface of the MightyCore board instead of the print medium
The sides are black or white whereas for Gallery wrap the sides are printed with severaloptions
Box mount is less expensive.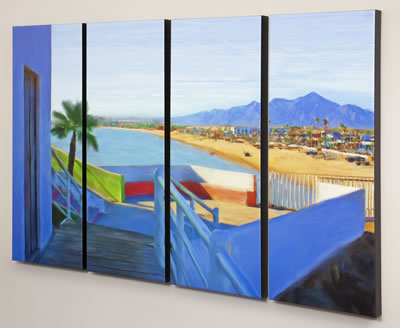 Photo by Robin Waters. Click to see larger.
Why Indiana Artist Prints?
Small lab with personal service
Run by photographers
Innovative mounts
Gallery wraps on MightyCore
SmoothPhotoCloth wraps
Archival long lasting materials
Protective coatings
Certificate of Authenticity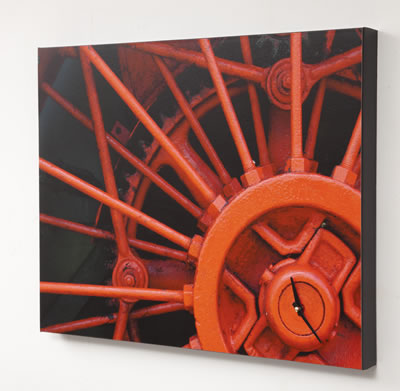 Photo by Satya Banga. Click to see clock detail.