Gallery Wrap Dazzle backlit prints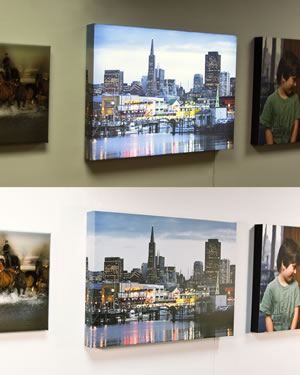 Gallery Wrap Dazzle with LED light on and off
Finally an affordable backlit light box to make your print stand out above the rest! With the lights off it looks like a traditional gallery wrap only with smooth cloth instead of canvas. With the lights on your print has a fabulous glow right to the edge that will impress everyone! Great way to light your basement hangout!
Our exclusive Dazzle mounting
Your photo is giclée printed on smooth SmoothPhotoCloth and wrapped around the sides of a MightyCore box that is open on the front. Several rows of LED lights are attached to the back of the 2.25-inch-deep box to light up your print. We provide a power adapter that plugs into the wall outlet and a remote control dimmer. The 12V white wire from the adapter to the print can be hidden behind the wall.
Be creative with the sides
Our Photoshop artist prepares the sides for you with your choice of eight options or a combination of them. Although image wrap is popular, this often crops the photo too much as viewed from the front. In this case we can clone the background or apply a mirror image of the border of your print. Solid color sides or a blurred image are also good choices.
You can change the image
Gallery Wrap Dazzle
Pigment inks on SmoothPhotoCloth
Backlit with LED lights
Remote control dimmer
LEDs draw only 2 to 12 watts for a 16x24 print
Optional timer
Over 50,000 hours LED life
All archival materials (no wood)
Protective coating gloss or matte
Any size up to 36x90 inches
Depth is 2.25 inches or larger
Sides can be your image, solid color, cloned from the front, or mirror wrap. See 8 examples
The image is stretched and held tight to the back with tape. It takes about 10 minutes for you to remove the old one and stretch on a new print. We provide detailed instructions.
Long-lasting low-power LEDs
The LEDs will last over 6 years of continuous use at full brightness and draw only 12 watts for a 16x24" print. It comes with a remote control on/off/dimmer that will work from anywhere in the room. Since you probably do not want it on all the time, we can also provide an optional digital timer that will turn it on and off at times you choose. Or leave the brightness turned low at night -- it makes a great night light.