Floating mount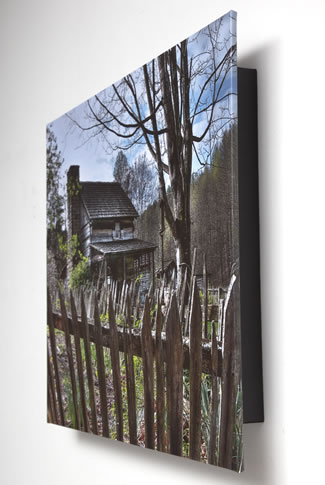 Photo by Linda Clifford
Floating mount options
Wrap print around the sides to hide the edge of the MightyCore mounting board
Use mirror wrap to extend the image for the wrap
Use any of our six print media, even with wrap
We apply the usual heavy protective coating, either matte or gloss
A hanging wire on the back holds the print tight to the wall
The depth to the wall can range from 1 to 4 inches
The size can range up to 36x48 inches
We developed the Floating mount as an elegant and affordable way to display prints. Like our Gallery wrap and Box mount products, the prints are dry mounted to MightCore board.
The foam interior core of the black MightyCore can show around the edge or we can wrap any of our print media so the edge does not show (example to the right). The print is suspended off the wall by a hidden black box on the back which keeps the print perfectly flat. A hanging wire is provided on the back to pull the supporting box tight against the wall.
These prints can be larger than the similar Gallery wrap and Box mount prints, up to 36x48 inches.
The depth (distance of the print from the wall) can range from 1 inch to 4 inches.